BUY 3 GET 1 FREE with code: FREEBIE (applies to individual bottles and jars only)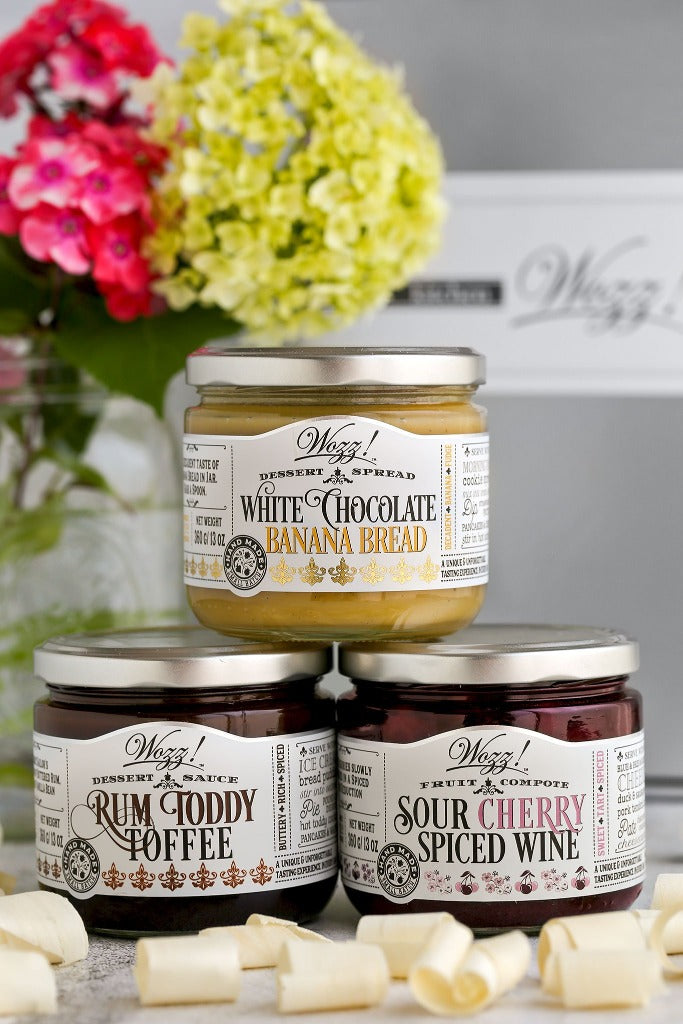 We have run out of stock for this item.
Dessert Sauces Gift Set - A Set of 3 Handcrafted Delectable Dessert Sauces.  Drizzle Over Ice Cream, Puff Pastry, Poundcake, Grilled Fruit, Bread Pudding and More!

Wozz! Dessert Sauces Gift Set includes 3 handcrafted dessert sauces designed for all your dessert indulgences!  From ice cream to puff pastry to fruit dip to a dessert cheese board, these deliciously rich delectable sauces are so versatile and make the perfect hostess, holiday or housewarming gift. 

Wozz! Dessert Sauces Gift Set Includes:
Rum Toddy Toffee Dessert Sauce - A combination of buttered rum, custom blended chai spices, pure maple syrup and vanilla bean.  Perfect for drizzling over pancakes, bread pudding, pound cake and ice cream.  Also delicious with banana fosters or as a drizzling sauce for apple crisp or grilled peaches.  For a dessert style cheese board, serve with a creamy goats cheese, blue cheese or brie and crackers.

Pictured Below:  Banana Fosters Puff Pastry with Rum Toddy Toffee Dessert Sauce and Ice Cream
White Chocolate Banana Bread Dessert Spread - The decadent taste of banana bread in a jar!  Spread this on toast, cupcakes or on crepes.  Fold through cream cheese for a banana cheesecake, mix into hot oatmeal or serve with pretzels and fruit as a dessert dip.  Most prefer to just eat it with a spoon!


Sour Cherry Spiced Wine Fruit Compote - Sour Cherries from upstate NY are simmered in red wine and aromatic winter spices.  This cherry wine sauce can be used in both sweet and savory dishes.  Delicious spooned over ice cream, cheesecake and chocolate cake or served on a sweet and savory cheese board with cocoa cakes and goats cheese or blue cheese.  Stir into yogurt and granola for a breakfast treat.

Pictured Below:  Effies Cocoa Biscuits with Irish Crozier Blue Cheese and Sour Cherry Spiced Wine Fruit Compote
*Our products are handcrafted in small batches using all natural fresh non gmo ingredients.  No Corn Syrup.  No Artificial Additives.  Fresh Ingredients.
Wozz! Dessert Sauces Gift Set is delivered in a Wozz! gift box with recipe cards and a personalized note from you.
*please write personalized message in note section at checkout.