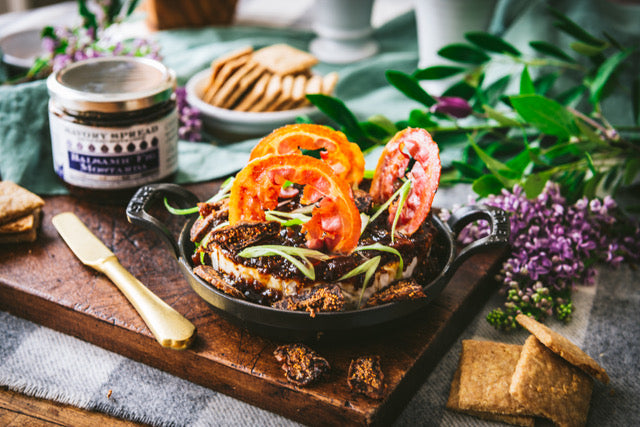 Baked Brie with Wozz! Balsamic Fig Mostarda
Baked Brie with Wozz! Balsamic Fig Mostarda
I wanted to share with you all a delicious recipe that was developed by some good friends of ours at the extraordinary
Weston Table Market.
Weston Table is a retailer of ours that does a spectacular job of combining a sophisticated and visually stimulating travel and recipe blog with an upscale artisanal homewares store that focuses on beautiful design and functionality. Their whole approach is cohesive and beautiful and inspiring. 


Their website and store is described in their own words as"Our award-winning approach combines beautiful imagery and unexpected content alongside an extraordinary collection of goods that elevates living, giving, and entertaining. We believe in emboldening people to shop with intention and to make meaningful purchases. Weston Table is a craftsman to consumer, get to know the story, visually-rich marketplace presented in a lifestyle format that includes travel experiences and food centric entertaining." 



Baked Brie with Wozz! Balsamic Fig Mostarda
recipe courtesy of Weston Table
https://www.westontable.com/blog/brie-balsamic-fig-mostarda
DIRECTIONS
1. Preheat the oven to 400 degrees F.
2. Put the round of brie in a SMALL OVEN PROOF DISH. Use a small off set spatula to spread the mostarda over the top of the brie (all the way to the edge so that it begins to drip over the sides).
3. Place the pancetta rounds in a single layer on a QUARTER SHEET BAKING PAN.
4. Place the brie on the middle rack of the oven and the pancetta rounds on the top rack of the oven. Cook the brie for 7 minutes and the pancetta rounds until they are crisp, about 5 minutes (check frequently and remove as soon as they are brown and crisp).
5. While the brie is baking, trim the ends from the scallions, light green and deep green pieces only (reserve the white bulb part for another dish). Cut the green stem on the bias into very thin 1.25" long strips in which one end of the scallion stays together and forms a V. Plunge the scallions into an ice water bath. The scallion greens will firm up and begin to curl.
6. Remove the brie from the oven and carefully separate the pancetta wheel where it comes together naturally. Stick the ends of 3 pancetta rounds into the top of the brie. Sprinkle with the curled scallions. Serve immediately with the remaining pancetta rounds and crackers.
KITCHEN NOTES
Let the brie come to room temperature for an hour or two before baking to minimize oven time and keep the mostarda from drying out. Pancetta rounds are often found in the refrigerator section that includes prepackaged sliced Italian meats. Effie's Homemade Oatcakes are particularly delcious with this dish and may be found at Whole Foods. If you have fresh or dried figs, slice them and add a few to the top of the brie before baking.