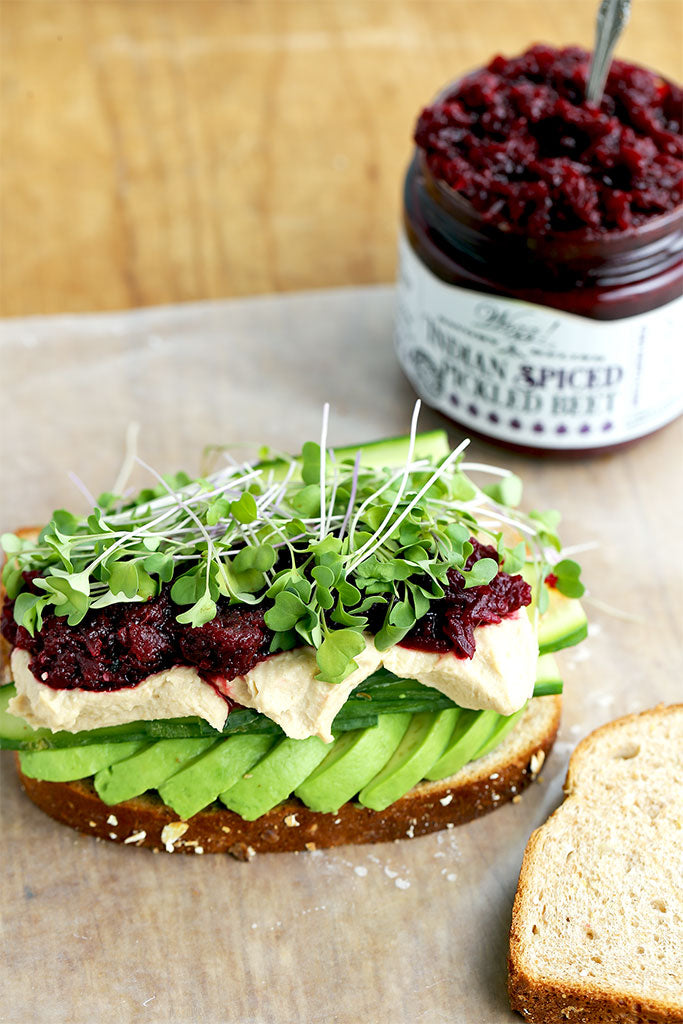 Our Favorite Spreads, Chutneys and Condiments For Delicious Sandwiches
Yes, ketchup, mayonnaise and mustard do have there significant role in the sandwich world but sometimes you just get bored with the status quo and need a spread or condiment that lifts your taste buds to a whole new level.  Your sandwich shouldn't always be a rerun of your 6th grade brown bag lunch, am i right?  Now don't get me wrong, there are certainly days when that old school bologna and cheese on white with mayo is just what the doctored ordered but I'm pretty sure we can raise the bar.  Here are our favorite sandwich recipes using our condiments, chutneys, spreads and relish that will take your sandwich to another level of tasty deliciousness and will leave you truly satisfied. 
1. Ultimate Hummus and Veggie Sandwich with Wozz! Pickled Beet Relish
Your everyday hummus and veggie sandwich just got Wozz'ed up with our Indian Spiced Pickled Beet Relish.  This beet relish is made from fresh from the farm beets, roasted and shredded and pickled with our own blend of Indian spices.  It's most at home on a veggie hummus or goats cheese panini.
2. Grilled Chicken and Brie Sandwich with Wozz! Cranberry Orange Cognac Chutney
Juicy grilled chicken atop thick grilled bread and topped with gooey cheese, fresh avocado and our cranberry orange cognac chutney   Our Cranberry Orange Cognac is a blend of New England Cranberries blended with fresh orange, aromatic spices and cognac liquor.  Just delicious with a roast turkey sandwich.
3. Ham Egg and Avocado Bagel Sandwich with Wozz! Spicy Tomato Kasundi Sauce
Our globally influenced spicy tomato kasundi sauce with cumin, paprika and chili is a a cross between a wordly ketchup and a smoky bbq sauce and it completely transforms this breakfast bagel sandwich.
4.  Avocado Toast with Poached Eggs and Wozz! Super Hot Chii Sambal
Poached eggs on smashed avocado toast topped with our Indonesian style Super Hot Chili Sambal Hot Sauce. 
5. Falafel Gyros with Lemon Green Tahini Sauce
Lebanese street food made at home.  Is there anything better than a loaded gyro wrap with veggies, tzatziki, lemon green tahini dressing and falafel.  Survey says no.  This lemon green tahini dressing is also fantastic stirred into chopped eggs for an egg salad sandwich and if you are vegan, swap out the eggs and use tofu.
6. Turkey Cheese Wraps with Thai Orange Ginger Relish
Simple turkey and cheese wraps get a bold and tangy twist with Wozz! Spicy Savory Thai Orange and Ginger Relish 
7.  Balsamic Fig Caprese BLT Club Sandwich with Wozz! Balsamic Fig Spread
A BLT perfect for the summer garden season when ripe tomatoes and bunches of fresh basil are ready for harvest.  Add some sliced mozzarella, our Balsamic Fig Mostarda Spread, cripsy thick cut bacon, avocado and mayo and you've got yourself one ridiculously delicious sandwich.
8. Grilled Ham and Cheese Sandwich with Wozz! Moroccan Tomato Onion Relish
This grown up style grilled cheese is made with crusty sourdough bread, our Moroccan Tomato Onion Relish, sliced ham, fresh spinach, Gruyere and cheddar.
9. Ultimate Bacon Cheeseburger with Wozz! Triple Ale Onion Spread
What do you get when you take a Bacon Cheeseburger and add Wozz! Triple Ale Onion Spread to it?
The most mouthwatering delicious flavor explosive bacon cheeseburger you have ever tasted.
10. Corned Beef Reuben with Wozz! Southern Style Rustic Mustard
Layered corn beef on marble rye bread with swiss cheese, sauerkraut, Russian dressing and Wozz! Southern Style Rustic Mustard.  This sandwich is a full on flavor bomb. 
11. Crispy Fried Chicken Sandwich with Green Tomato Jalapeno Spicy Mayonnaise and Special Sauce Coleslaw.
The ultimate buttermilk fried chicken sandwich with spicy mayo and "special sauce" coleslaw made with our Green Tomato Jalapeno Pepper Jelly Spread.  Served on a toasted brioche bun with pickles.
All of our condiments and spreads are versatile and can be used on a variety of sandwiches.  Here are a few more of our favorite sandwich and condiment combinations:
Shaved Turkey + Bacon + Mayo + Cheddar + Spicy Summer Mango Chutney + Salad Greens + Baguette 
Prosciutto + Fresh Pear + Goats Cheese + Fresh Basil + Balsamic Fig Mostarda Spread on Hearty Artisan Bread Grilled
Roast Beef + Horseradish Mayo + Triple Ale Onion Spread + Lettuce + Bulkie Roll
Turkey Burger + Melted Cheddar + Thai Orange Ginger Relish + Lettuce + Whole Wheat Hamburger Bun
Goats Cheese + Indian Spiced Pickled Beet Relish + Arugula on Grilled Bread
Pulled Pork + Jamaican Jerk Pineapple Chutney + BBQ Sauce + Fresh Cilantro + Pickles + Brioche Bun
View The Entire Collection of Wozz! Condiments, Spreads, Relish and Sauces
If you love to add a bit of spice and tang to your everyday sandwiches, you may like our Global Relish Collection