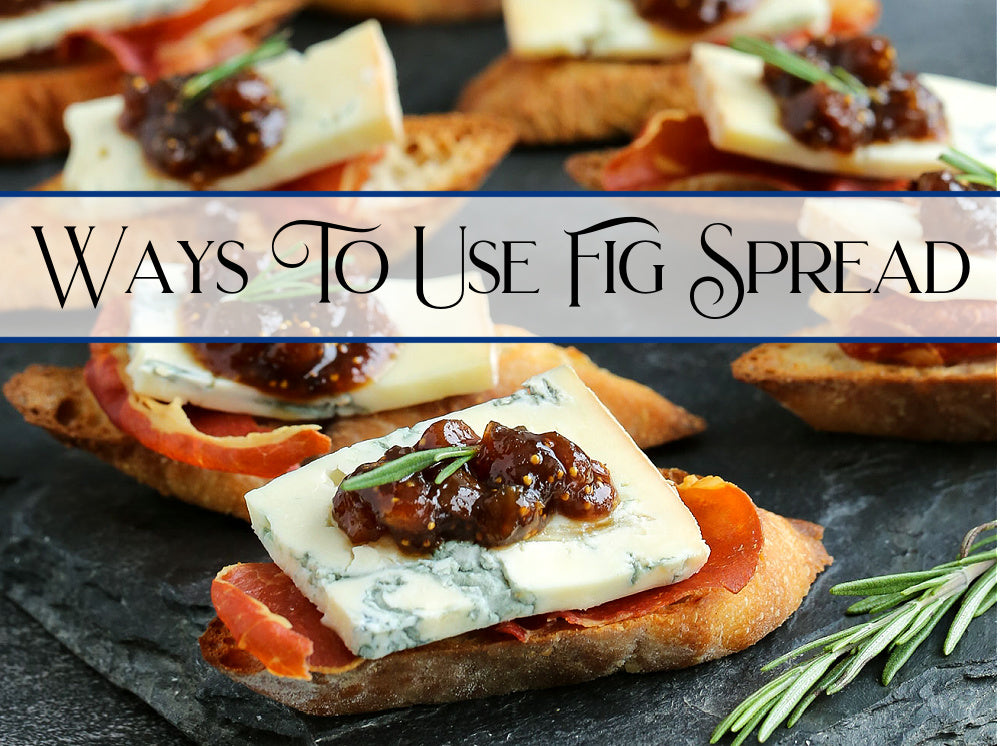 How To Use Fig Spread? Let Us Count The Ways.
We started making our balsamic fig mostarda spread in 2013...and it quickly became a best seller.  In 2017 it won the NYC Silver sofi award for best condiment in it's class.  It's a combination of sweet figs and fresh hand cut pears in a balsamic reduction sauce and finished with a touch of hot mustard oil.   We absolutely love this fig spread and when our customers taste it, they find it a lovely surprise that it's a sweet balsamic fig jam with a little savory spicy mustard bite.  Traditionally, they always think to pair it with a cheese plate but we want to reach out and show you that cheese is by far not your only option.  
Let's go back to 1988 for a minute.
Most people think of fig spread or fig jam as what is in the middle of a fig newton...basically dried figs and sugar, but our fig spread takes on a modern approach and the combination of sweet figs with a nice balance of balsamic acidity and mustard heat lends itself to a whole lot of dishes far beyond a simple cheese plate.  So with that being said here we go. 
10 Ways to Use Fig Spread (you can use any fig spread but we of course, recommend ours :) 
1.  Crostini with Balsamic Fig Spread
Looking to entertain in 5 minutes?  Spread our Balsamic Fig Mostarda Spread on toasted crostini with goats cheese and drizzle with honey.   You can also spread over a log of goats cheese with a drizzle of honey and chopped nuts and serve with crostini or crackers on the side.
2.  Shredded Roast Beef Dip Sandwiches with Balsamic Fig Sauce
Slow cooker beef with a balsamic fig sauce, shredded and added to crusty bread rolls and dipped in balsamic fig gravy?  Yes please....
3.  Fig Spread as a Pizza Base and Flatbread Base
Slather fig spread over a pizza crust or flatbread crust and top with goats cheese or blue cheese, prosciutto, arugula, walnuts and rosemary.  Fig spread also makes a delicious base for a steak and blue cheese pizza. Try 2 of our favorite pizzas:  Grilled Peach with Balsamic Fig, Brie and Basil or our Balsamic Fig with Blue Cheese, Walnuts and Prosciutto 
4. Mini Phyllo Tarts with Fig Spread
Add a spoonful of fig spread to mini tarts and top with goats cheese, blue cheese or brie and add just a snip of fresh thyme or rosemary.  Bake for 10 minutes and voila!  Balsamic Fig and Brie Mini Tarts Recipe
5.  Fig Spread on a Grilled Cheese Panini
Add our fig spread to a variety of grilled cheese panini combinations.  Try turkey, brie and fig spread on a baguette or cheddar and fig on brioche.  Roast beef, provolone, fig spread and arugula is a favorite combo.
6.  Easter Ham with Warm Fig Mostarda Sauce
Simply warm up our balsamic fig spread on the stove top and serve with Easter ham.  Keep it simple, yet savvy.  (and the mustard kick works so well with ham)
7.  Balsamic Fig Baked Chicken
Mix our balsamic fig spread with a bit of balsamic vinegar pour over chicken and bake with cherry tomatoes on top.  Done and it's pretty darn good for a typical Tuesday night.  Balsamic Fig Chicken Recipe here.
8. Fig and Cheese Plate
We already know this one.  No advice needed.  You can add our Balsamic Fig Spread to any cheese plate and it's a classic pairing.  Serve it on the side of blue cheese, gorgonzola, goats cheese or atop brie and serve with crackers, fruit and charcuterie.
9.  Roasted Vegetables and Fig Spread
From Brussells sprouts to green beans, you can toss veggies in our balsamic fig spread and roast in the oven or sauté in a pan.  Check out our balsamic fig roasted brussels sprouts here. 
10.  Balsamic Fig Salad Dressing
Add our balsamic fig mostarda spread to a little extra balsamic vinegar, olive oil and salt and pepper. Drizzle over a baby spinach, cranberry and candied walnut salad with goats cheese.  
11.  Pork Tenderloin with Balsamic Fig Mostarda Sauce
Rub a pork tenderloin with an herb oil blend (olive oil, fresh rosemary, sage, salt , pepper) bake in oven and serve our Balsamic Fig Mostarda Spread on the side.
There you have it!  Now your jar of fig spread is empty and you need more. :)