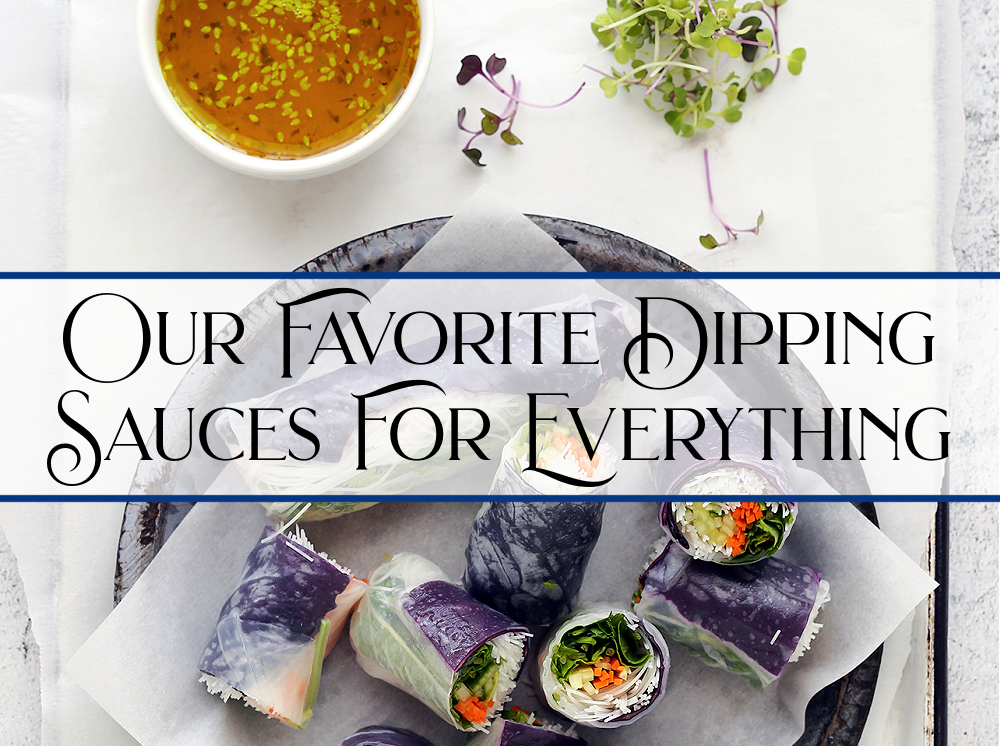 Our Favorite Dipping Sauces For Potstickers, Shrimp, Chicken...Everything!
When you really think about it, in the world of food, eating and entertaining, we dip a lot.  People love dips - hot dips, cold dips, creamy dips, dipping sauces, hot sauces, condiments, all things dip.  In so many of our meals we incorporate a good ole' dipping sauce; spicy ketchup for dipping fries, sweet chili sauce for dipping dumplings, creamy ranch for dipping chips, pepper jelly for dipping crackers, barbecue sauce for dipping chicken, marinara for fried calamari, it goes on and on and on and on.  You get the point.  So we decided to round up of all of our favorite dipping sauces here at Wozz! to give you a new perspective on dipping.  It doesn't have to be boring ranch or honey mustard anymore, we've got so many options that will take your dipping to a whole new level. 
1. Cambodian Coconut Peanut Sauce - A Favorite Dipping Sauce For Chicken Satay and Lettuce Wraps
Our Cambodian peanut and coconut sauce has a kick fresh lime, chili and southeast Asian spices. It is the ultimate dipping sauce for chicken satay and is terrific with rice paper rolls, spring rolls, vegetables, Thai lettuce wraps and shrimp.
2. Sweet Chili Orange and Sesame Sauce - A Thai Chili Dipping Sauce For Shrimp, Spring Rolls and Dumplings
Our Thai style Sweet Chili Orange Sesame Sauce is a customer favorite here at Wozz.  Use as a sweet and spicy Thai chili Dipping Sauce for potstickers, dumplings, egg rolls, spring rolls or wontons.  Serve as a dipping sauce for potato wedges with sour cream or serve alongside grilled shrimp skewers, lettuce wraps or crab rangoons.   
Pictured Below:  Coconut Shrimp with Sweet Chili Dipping Sauce
3. Korean Raspberry Gochujang Barbecue Sauce - A Korean BBQ Sauce For Dipping Grilled Steak and Pulled Pork
A sticky spicy Korean barbecue sauce for dipping grilled steak tips, ribs and pulled pork sandwiches.  Also delicious as a barbecue sauce for dipping gyoza, beef kebabs and chicken wings.
4. Ginger Soy Sauce - Our Favorite Potsticker Dipping Sauce
Our award winning ginger soy sauce takes your potstickers to the next level of dipping.  Similar to a Japanese ponzu sauce, our ginger soy sauce is used as a dipping sauce for dumplings, sashimi, seared tuna (add a little wasabi for a kick), fried tempura and grilled steak tips.  
5.  Spicy Tomato Kasundi Sauce - A Tomato BBQ Dipping Sauce For Grilled Chicken, Crispy Fries and Sausages
Our Spicy Tomato Kasundi Sauce is a cross between a globally inspired ketchup and a smoky spicy barbecue sauce. This is a dipping sauce for all things barbecue from dipping crispy potatoes, sweet potato fries, burgers, sausages, grilled chicken and hot dogs.
6.  Kiwi Lime Salsa Verde - A Salsa Verde For All Your Mexican Favorites
Our kiwi lime salsa verde is the perfect accompaniment to all your Mexican dishes!  Drizzle this salsa on nachos, enchiladas or fish tacos.  Use as a vibrant spicy dipping salsa for taquitos and quesadillas.  We make a fantastic guacomole with this salsa for dipping tortillas.
7. Southern Style Rustic Mustard - A Hearty Wholegrain Mustard For Dipping Pretzels, Hot Dogs and Sausages
For all the mustard lovers, our Southern Style Rustic Mustard can be used as a dip for cheese, charcuterie, crackers and pretzels.  It's also a great one for all your barbecue favorites -  sausages, brats, hot dogs and grilled pork chops.  
8. Spicy Summer Mango Chutney - Sweet and Spicy Mango Chutney For Chicken, Indian and Coconut Shrimp
Our sweet and spicy mango chutney makes a fantastic dipping sauce for chicken, coconut shrimp, Indian samosas and papadums.  Serve on the table to spoon over chicken tacos, grilled pork chops or spicy grilled chicken.
Pictured Below: Indian Grilled Chicken with 3 Dipping Sauces:  Mango Chutney, Cilantro Mint Sauce and Yogurt Raita
9. Vietnamese Green Tea and Mint Dipping Sauce - A Nuoc Cham Style Dipping Sauce 
2x NYC Fancy Food Show sofi Gold winner for best condiment, don't let the name "green tea and mint" scare you.  This Vietnamese inspired Nuoc Cham dipping sauce is absolutely delicious!  It's sweet yet tangy and lime-y with a little chili kick.  It's vibrant and fresh and ideal for rice paper rolls, spring rolls, savory crepes and Vietnamese pancakes.  It's delicious for dipping lamb kebabs, grilled chicken skewers, shrimp and dumplings.  One of our favorites.
10.  Serrano Cilantro Lime Hot Sauce - For Those Who Dip Everything in Hot Sauce
Our serrano cilantro lime hot sauce is super fresh and vibrant with a heat level of 7/10. Use this hot sauce on your scrambled eggs, pizza, fries, chicken nuggets, tacos, tortilla chips, literally everywhere. Mix with mayo or sour cream for a creamy dip or stir into a cheese dip for an amazing queso! 
There you have it, 10 Wozz sauces and condiments that will take your dipping  to a whole new level.