BUY 3 GET 1 FREE with code: FREEBIE (applies to individual bottles and jars only)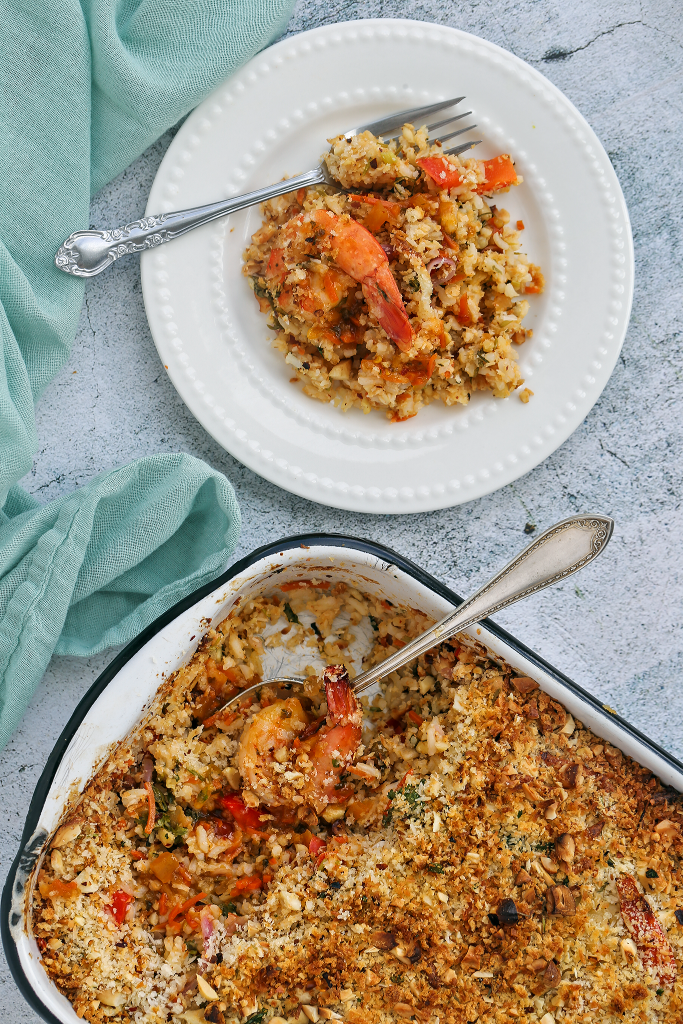 Thai Orange Ginger Shrimp and Rice Bake
We have run out of stock for this item.
Thai Orange Ginger Shrimp and Rice Bake
Shrimp and sauteed vegetables are tossed with jasmine rice and our savory Thai Orange Ginger Relish and baked to perfection with mozzarella cheese and a coconut cashew nut crust.   Easy comfort food during these crazy COVID times.
Shrimp Rice Bake Ingredients:
1 cup uncooked jasmine rice 
1 lb peeled shrimp (we used XL 13-15 count bag, thawed and we left the tails on)
1 red bell pepper cut into small strips
1 small red onion cut into small strips
1 Tbsp sesame oil
1 Jar Wozz! Thai Orange Ginger Relish
1 cup loosely packed cilantro roughly chopped
1.5 cup grated mozzarella
Nut Crust Ingredients
 1/2 cup raw cashews rough chopped
1/2 cup unsweetened coconut
1/2 cup Panko breadcrumbs
1/2 tbsp chili flakes
2 lime leaves chopped or zest of 1 lime 
1/2 tsp salt
2 Tbsp melted butter
Thai Orange Ginger Shrimp and Rice Bake Method:


Cook rice according to package directions.  Set aside.  
In a medium mixing bowl, combine nut crust ingredients and set aside.
In a large skillet on medium high heat, add sesame oil, saute peppers and onion for one minute, add shrimp, a pinch of salt and sautée until peppers and onion soften but don't cook the shrimp all the way through
Remove from heat, stir in jar of Wozz! Thai Orange Ginger Relish, fold in rice, shrimp mixture and cilantro and combine thoroughly. Lastly fold in 1 cup of the mozzarella and transfer to a baking dish.
Top with remaining mozzarella then nut crust  
Bake middle shelf at 425 degrees F for 20 minutes
 Enjoy!