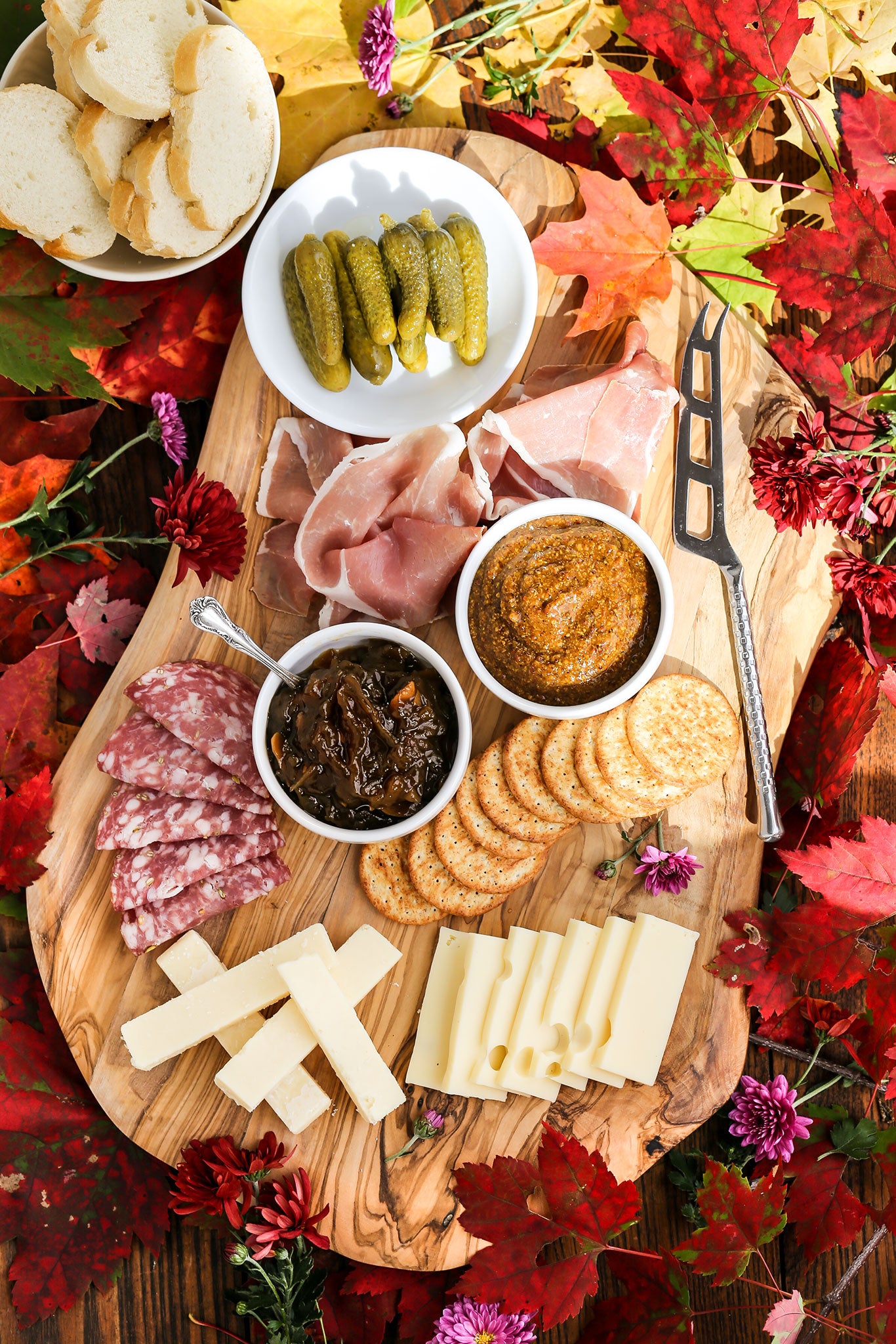 Condiments To Compliment A Charcuterie Board
When you say charcuterie board, most people think of it as an upscale appetizer, most likely due to it's French origins and typically thought of as an arrangement of cured aged meats only to be bought at a high end delicatessen or artisan butchery shop. A spread of dry cured sausages and aged parma ham and duck terrines served with mini toasts and butter and a few condiments and pickles.  Yes this is an example of a classic charcuterie spread and is my preferred take on a charcuterie board however, charcuterie boards can also be served in a more casual style such as a simple meat and cheese platter, an antipasto spread consisting of some cheese, meats and pickled veggies and even a ploughman's lunch which if you think about it, is kind of a deconstructed sandwich really.  Basically a spread of cold cuts, some salami, pickles, crackers, crusty bread, chutney and cheese.  
Whichever way you want to construct your charcuterie board, whether it be a sophisticated spread highlighting artisan made cured meats with types such as prosciutto di parma to jamón serrano to duck paté or it be a simpler spread including some genoa salami or sopressata with some cheddar and crackers we've got a range of condiments, chutneys and savory fruit spreads to liven up the board and add a nice accompaniment to your choice of meats, cheese, breads and crackers.
Our Favorite Condiments, Chutneys and Savory Fruit Spreads For Charctuerie Include:
 1.  Southern Style Rustic Mustard - Our Signature Pairing For All Charcuterie
Hands down a staple to a magnificent charcuterie board is a nice hearty mustard.  Our Southern Style Rustic Mustard is a hearty wholegrain mustard with a southern bbq inspired twist and a nice bit of vinegary tang.  It's slightly sweet, peppery and tangy which makes it a phenomenal addition to a range of cured meats from sopressata (a rustic style Italian cured sausage) to capicola (also known as coppa - a smoked sausage) and salami.  It's also delicious with cooked sliced ham, mortadella (Italian bologne - usually seen in the deli - looks like large bologne with olives and black peppers inside) and chicken liver pate (served with butter and toast).  Our Southern Style Rustic Mustard is a perfect accompaniment to any charcuterie board you display from a swanky spread to a Super Bowl party platter and everything in-between.
Featured Below:  Our Southern Style Rustic Mustard Featured on our Fall Festive Simple Cheese and Charcuterie Board - pictured is French bread baguette slices with sopressata, prosciutto, gherkin pickles, swiss cheese and aged cheddar with our Southern Style Rustic Mustard and our Triple Ale Onion Savory Spread.  
2.  Triple Ale Onion Spread - A Favorite For Cheese, Cured Sausage and Crackers - Winner of The NYC Fancy Food Show Sofi Gold Award
We always say our Triple Ale Onion Savory Spread is made for aged cheddar, cured sausage and crackers, washed down with a craft brew.  It's the Super Bowl style meat and cheese platter that this spread is made for.  This sweet sticky caramelized onion jam spread is also delicious with a variety of cheeses from blue cheese to goats cheese to baked brie (with a little bit of crumbled bacon and rosemary on top - so good).  
Pictured Below:  Wozz! Triple Ale Onion Spread with Aged Cheddar and Sausage.
3.  Balsamic Fig Mostarda Spread - Figs Simmered in Balsamic with a Touch of Mustard Spice - A Classic Addition to A Cheese and Charcuterie Board
Our Balsamic Fig Mostarda Spread is not only our signature cheese pairing condiment, pairing with a variety of cheese from aged chevre to stilton, this fig spread is a classic addition to a charcuterie board and also a winner of the NYC Fancy Food Show for best in class.  Our favorite way to pair it, is with crostini, gorgonzola and crispy prosciutto (as shown below).  It's a delicious accompaniment to prosciutto (Italian dry cured ham) and jamón (dry cured ham from Spain) served with a few cheeses including blue cheese, aged goats cheese and crusty bread or crackers along with grapes, nuts and olives.
4.  Green Tomato Jalapeno Pepper Jelly Spread - A Sweet Yet Tangy and Spicy Bite For Your Meat and Cheese Platters
This is a pepper jelly jam made with fresh green tomatoes and fresh jalapenos, it's sweet and tangy with a vinegary spicy kick and it's just delicious paired with a variety of charcuterie and deli meats including ham, prosciutto, mortadella, sausage, pastrami and terrines.  It's also great with cheddar, swiss cheese, goats cheese and simple cream cheese.  From a simple meat and cheese platter to a sophisticated charcuterie board this one adds a nice tangy pickle-y bite to them all.
Pictured Below: Toasted Crostini with Sopressata, Ham, Aged Cheddar and Wozz! Green Tomato Jalapeno Spread 
5. Sour Cherry Spiced Wine Fruit Compote -  A Favorite Fruit Spread For Pate, Foie Gras and Holiday Charcuterie Boards
With it's bright burgundy sour cherries, Our Sour Cherry Spiced Wine Fruit Compote makes a gorgeous addition to a charcuterie board.  Sour cherries are simmered in red wine with warm aromatic spices and finished with a touch of cracked black pepper making it a great match for peppery salami and sausages.  It is our favorite pairing for pate, foie gras and terrines.  This sour cherry compote paired with duck paté and simple buttered toast is a lovely holiday appetizer. 
Get The Set - Wozz! Condiments Jams and Spreads For Cheese and Charcuterie Boards ~ $58.00