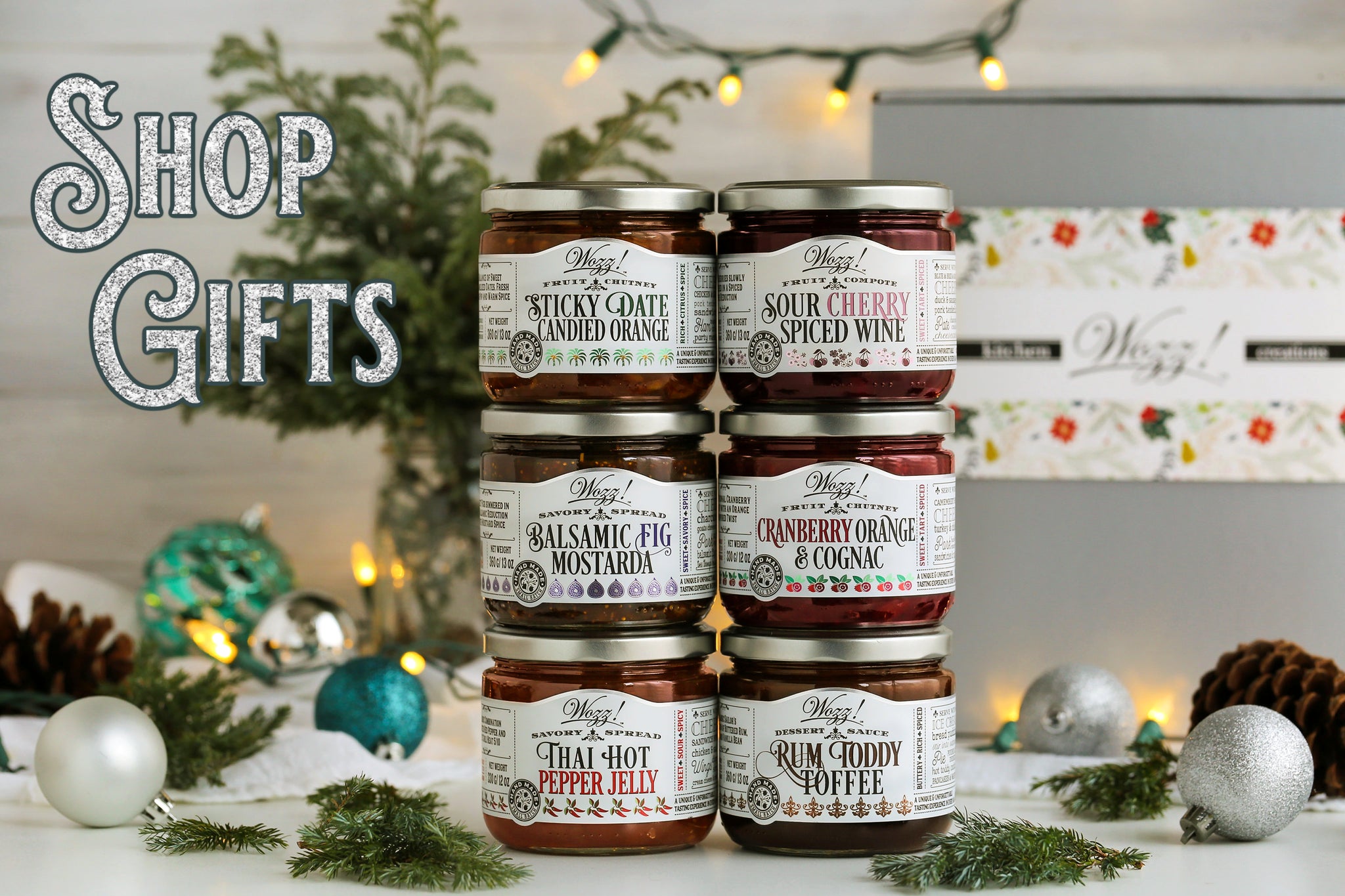 Holiday Gift Guide: Our Top Sauce Gifts + Condiment Gifts + Savory Spreads + Jam Gift Sets For Holiday Gift Giving
If you are looking for that perfect foodie holiday gift for those who love to cook and entertain, something that is special, original, unique and thoughtful, than look no further. Our curated collections of handmade artisan cooking sauces, jam spreads and condiment gift sets are created with artful attention to detail, fresh non gmo ingredients and are sent in beautiful packaging with recipe cards and a personalized note from you.  Our gourmet spreads, condiments and globally influenced sauces are multi award winning, receiving over 10 prestigious NYC Fancy Food Show sofi™ awards and their versatility is endless.  From cheese and charcuterie boards to cooking up international global cuisine, our condiment and sauce gift sets are delicious one of a kind gifts that make cooking and entertaining easy and most importantly - fun.
1. For The Cheese Lover - Wozz! Cheese Pairing Spreads and Jams Gourmet Gift Box
A collection of our favorite fruit spreads and savory jams designed for all your cheese and charcuterie pairings.  From blue cheese to goats cheese to brie these spreads and savory jams will make your cheese plate shine.  
Pictured Below:  Creamy Gorgonzola Crostini with Wozz! Balsamic Fig Spread
2. Wozz! Cooking Sauces Gift Set - For Those Who Love To Cook and Get Creative in The Kitchen
Our Cooking Sauces Gift Set includes a range of rich and savory sauces made with fresh ingredients and slow cooked custom blended spices. This gift set is designed for those who love to explore in the kitchen and create delicious meals with global influence. From Cambodian Noodles to Moroccan Tomato Chicken To Salsa Verde Enchiladas, these sauces will make spectacular dishes. 
3. Hot Sauce Lovers Gift Set - A Hot Sauces Set For Those Who Love Both Heat + Serious Flavor 
Our Hot Sauce Gift Set is a collection of our small batch handmade hot sauces made with fresh chilis straight from the farm balanced with fresh lemon and lime juices, fresh herbs and vinegar.  These hot sauces range from sweet with medium heat to savory and straight up hot, so they are versatile - use these on eggs and pizza, in stir-frys and noodle dishes, on sandwiches, with cream cheese and crackers - wherever you want some extra heat.
Pictured Below:  Pork Carnitas Tacos with Wozz! Serrano Cilantro Lime Hot Sauce
4. Jams For Cheese and Charcuterie Trio - A Simple Yet Elegant Hostess Gift
Looking to bring a simple yet elegant hostess gift to a party?  Wozz! Jams For Cheese and Charcuterie Trio is a good bet.  It's 3 of our best selling gourmet spreads and jams designed for easy entertaining.  From our award winning Balsamic Fig Spread to our best selling Triple Ale Onion Jam, these jams make a wonderful addition to cheese plates, appetizers and charcuterie pairings.  
Pictured Below:  Baked Brie Cheese with Wozz! Sour Cherry Spiced Wine Fruit Compote
5. Around The World Sauces Gift Set - For Those Who Love Global Cuisine and Around The World Adventure
Influenced from our travels around the world and Wozz's near decade as a private yacht chef, these full flavored global cooking sauces and rich savory simmer sauces are slow cooked and authentically made with fresh ingredients and bold custom blended spice mixes.  This is a wonderful gift for those who have been exploring in the kitchen and making all their favorite international dishes at home. From Vietnamese Crispy Pork and Noodles to Chermoula Lamb Tagine to Jamaican Jerk Pineapple Blackened Fish Tacos, these sauces are sure to capture the essence of a far away tasting adventure.
Pictured Below:  Moroccan Tomato Chicken over Saffron Rice made with Wozz! Moroccan Tomato Onion Relish and Simmer Sauce
6.  Jams and Spreads For Holiday Entertaining Gift Set - For Those Who Love To Entertain At Christmas and The Holidays
Want to sit by the fire with your friends and make rum toddy cocktails or how about setting up your holiday table with an assortment of cheese and jam pairings or maybe you want to serve your Thanksgiving turkey with some cranberry orange chutney on the side.  This set of savory jams, spreads, chutneys and dessert sauces are classic accompaniment to the holiday table and make wonderful appetizers, cheese plates and holiday dishes for everyone to enjoy.
Pictured Below:  Open Faced Turkey Sandwich with Wozz! Cranberry Orange Cognac Chutney
7. Award Winners Sauces and Condiments Gift Set - For Those Who Want The Best of The Best
Each one of these sauces in our Award Winner Condiments and Sauces Gift Set is the winner of a prestigious food award, whether it be the NYC Fancy Food Show, Royal Sydney Fine Food Awards or the San Francisco based Good Food Awards, these sauces and condiments are a curated collection of our shining stars and they are totally vetted as some of the best of the best sauces in the industry.
8.  Asian Sauces Gift Set - Cooking Sauces For The Asian Food Lover
So many of us want to cook our favorite take-out dishes at home and now you can, easy peazy and without a long list of ingredients.  Wozz! Asian Cooking Sauces Gift Set is a delicious set of authentic Asian sauces that makes cooking all your favorite noodle and stir fry dishes at home so easy.  Create a classic Chinese Chicken Chop Suey with our Ginger Soy Sauce, a Shrimp Lo Mein Noodle Dish with our Sweet Chili Orange Sesame Sauce, Pad Thai with our Cambodian Coconut Peanut Sauce or drizzle your grilled steak with our Japanese Sesame Miso Dressing for a hibachi style Japanese dinner.  
Pictured Below:  Pad Thai Noodles with Cambodian Coconut Peanut Sauce 
9. The Ultimate Dips and Spreads Gift - For The Hostess or Foodie Who Likes To Entertain with Savory Appetizers and Dips
Wozz! Ultimate Dips and Spreads Gift is a collection of our favorite dips and spreads that range from savory to sweet that can be used in a number of appetizers from hummus boards to guacamole and tortilla chips to simple cheese and meat platters.  Serve our Bruschetta Caponata on your next antipasto platter, serve our Southern Style Rustic Mustard on some ham and cheese sliders, mix our Kiwi Lime Salsa Verde with avocado and tomato for a knock your socks off guacamole!   
Pictured Below:  Simple Cheese, Cracker and Charcuterie Pairings with Wozz! Southern Style Rustic Mustard
There you have it, our top picks for our condiment, jam and sauce gift sets that are not only unique and well crafted but delicious.  Each of our gift sets arrive in beautiful eco-friendly packaging with recipe cards and a personalized message from you. 
Happy Holidays To You All!  Stay Safe and Thanks For Supporting Small Business! :)
Check Out The Entire Wozz! Collection of Condiment, Jam and Sauce Gifts Here