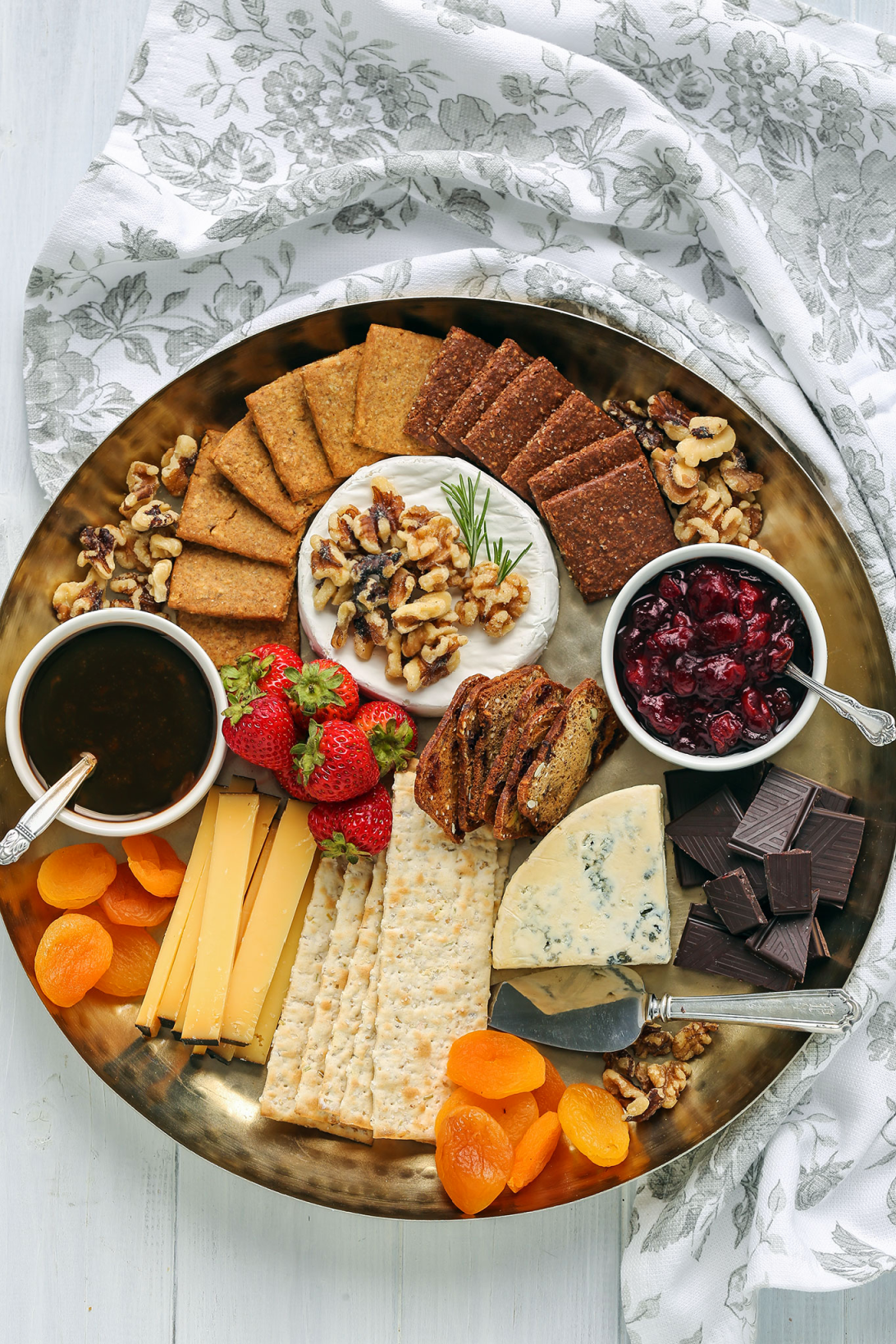 How To Create A Dessert Cheese Board
Whether you are entertaining friends and family or cozing up by the fireplace on a cold winters night, a dessert cheese board is a wonderful way to end an evening.  Pairing cheese with slightly sweeter accompaniments and pairing with dessert wines, ports and stouts can be a nice change from the classic dessert menu.  We've created a simple yet sophisticated dessert cheese plate to put together that makes a delicious spread for any occasion, whether it's a summer night picnic or holiday gathering.   Choosing the cheese selection and accompaniments doesn't have to be complicated or an over thought process, but it should be a selection of complimentary pairings so it's not confusing to the palate.
Which Cheese To Choose For A Dessert Cheese Board
Some of our favorite varieties of cheese for a dessert inspired cheese plate are as follows:
1. Nutty Hard Chees such as Manchego, Aged Gouda and Aged Cheddar.  They are slightly sweet and nutty with a slight caramel flavor which pairs wonderfully with dried or fresh fruits, nuts and sweeter crackers such as oat biscuits and are a lovely match for caramel sauce including our Rum Toddy Toffee Dessert Sauce.  
2. Soft Ripened Bloomy Rind Cheese - These are your classic brie and camembert cheese varieties.  They are baked and gooey with a mushroomy rich buttery flavor and pair well with full forward fruit jams such as our Sour Cherry Spiced Wine Compote or Wild Blueberry Maple Walnut Compote.  They also pair well with candied walnuts, pecans, honey and fresh fruits.  Look for a triple cream brie variety for extra creamy decadence and pair with champagne and strawberries.
3.  Blue Cheese - Creamy blue cheese that is a bit more salty and pungent can be a nice contrast to a sweeter pairing, such as caramel or fruit jam on a dessert cheese board.  It's like the ying to the yang for your palate.  Pair blue cheese with a savory sweet biscuit such as Effies Rye Cakes or Effies Cocoa Cakes and top with with our Rum Toddy Toffee Caramel Sauce or our Sour Cherry Compote for a sophisticated sweet and savory delight.  Blue cheese pairs well with dried apricots, dark chocolate and walnuts.  A delicious blue brie blend cheese, named Cambozola (the blue label) is a nice choice for a dessert cheese board because it's a cross between a brie and a mild blue cheese with an uber creamy texture.
4. Goats Cheese -  Creamy fresh chevre and aged goats cheese are a wonderful addition to a dessert cheese board.  You can dress up goats cheese with a variety of topping from crushed marcona almonds and honey to cranberry chutney or fig spread.  There are many options in the cheese section of your grocery store to purchase goats cheese that already has fruit in it.  I like to pair goats cheese with fruit and nut crisp crackers and a drizzle of honey or side of fruit jams or chutney to give a little sweetness to the tangy goats cheese.  One of my favorite pairings is our Wild Blueberry Maple Walnut Compote with Vermont Creamery's Coupole Aged Goats Cheese.  Serve with a glass of sweet Riesling for an after dinner dessert treat.
Accompaniments For A Dessert Cheese Board
When creating a dessert style cheese board it's nice to have the addition of some sweeter accompaniments such as dried fruit, honey, caramel, candied nuts, fruit jams and spreads and sweeter style crackers, however it's also important to have a contrast of fresh light ingredients which include fresh fruit and plain crackers.  You don't want the pairings sickly sweet or overly indulgent especially if you are pairing with dessert wines or rich ports. These are our favorite accompaniments:
1. Crackers and Biscuits:  I like to have a variety of crackers from sweeter varieties to more salty savory and plain varieties.  Sometimes if you have a pungent blue cheese, you may want the contrast of a sweet cracker but if you are having a richer buttery style cheese such as brie with honey and walnuts, you may want to serve that on a plain cracker or piece of crusty bread to offset the richness.  So have a selection of crackers to choose from.  For our dessert style cheese board, we used rosemary sea salt water crackers for the more savory option, Jan's fruit and nut cranberry pistachio crisps for the sweet and savory option and Effies Rye Cakes and Cocoa Cakes for the lightly sweeter option.
2. Dried Fruits and Fresh Fruits:  I like to use dried fruits such as apricots and dates and fresh fruits such as strawberries, fresh pear slices, grapes or fresh green apple slices.  The fresh fruits act as a palate cleanser and add a little acidity to the plate. Fresh fruits such as grapes are a classic pairing for any cheese plate.
3. Nuts:  You can serve walnuts, pecans, pistachios, almonds or macadamia nuts with your cheese.  Lightly toasting them will bring out their flavor or you can candy them for a more special occasion.  I like to add candied rosemary walnuts or pecans to a holiday dessert cheese board.  If you are choosing a baked brie or camembert wheel to include on your board you can top this with toasted nuts, fruit spreads, honey and a pinch of fresh herbs such as rosemary or thyme.
Pictured Below:  Baked Brie with Wozz! Sour Cherry Spiced Wine Compote, Pecans and Fresh Thyme
4. Fruit Spread, Compotes and Jams:  I like to have at least 1 fruit spread or compote on my dessert cheese plate and my favorite go-to's are our Sour Cherry Spiced Wine Fruit Compote and Wild Blueberry Maple Walnut Compote (with balsamic and rosemary).  I think these both pair well with a variety of cheese, especially your brie, blue and goats cheese varieties.  These fruit compotes also have a little savory addition to them making them not sickly sweet like a straight up jam and more complimentary to cheese. Other good options include apricot jam or fig spread.  Our Sour Cherry Spiced Wine Compote which I used in the dessert board featured in this post pairs well with dark chocolate, Effies Cocoa Cakes, Walnuts and Blue Cheese and it's a classic accompaniment to a baked brie.
Pictured Below:  Irish Crozier salty creamy blue cheese paired with Wozz! Sour Cherry Spiced Wine Fruit Compote on Effie's Cocoa Cakes.  A Delicious Dessert Cheese Pairing.
5. Caramel Sauce, Dark Chocolate and Maple Syrup
These are the rich decadent additions that make your dessert cheese plate, just that...Dessert.  I love our Rum Toddy Toffee Caramel Sauce lightly drizzled over a creamy salty blue cheese such as Croziers Irish Blue on rye cakes or lightly drizzled over aged gouda and served with fresh strawberries.   Dark chocolate is a complimentary pairing with aged gouda, aged cheddar and blue cheese.  Maple syrup can be drizzled over aged cheddar and served with fresh fruit such as sliced green apple. 
Pictured Below: Blue Cheese and Wozz! Rum Toddy Toffee Dessert Sauce.  A Dessert Cheese Board Pairing
6.  Wine, Port, Stouts and Champagne
Depending on which cheese and accompaniments you choose depends on what wine or spirits will pair the best.  Champagne, prosecco and sparkling wines go well with your more buttery rich creamy cheeses such as brie and camembert, serving as palate refreshers.  Rich ports and dessert wines pair well with blue cheese such as stilton and Roquefort, cutting through the salty more pungent flavors.  Sweeter white wines such as Riesling pair well with tangy goats cheese and blue cheese such as gorgonzola.  A heavy stout pairs well with a salty blue cheese and a brown porter pairs well with aged gouda.
Wozz! Dessert Inspired Cheese Board Recipe
Ingredients:
Cheese Selection:  Triple Cream Brie (bake to soften prior to serving), Aged Gouda (sliced) and salty creamy Blue Cheese (Irish Crozier Blue Cheese is what I chose)
Cracker Selection:  Jan's Farmhouse Fruit Nut Crisps, Rosemary Sea Salt Water Crackers, Effie's Rye Cakes, Effie's Cocoa Cakes
Fruit Spread:  Wozz! Sour Cherry Spiced Wine Compote
Dessert Caramel Sauce:  Wozz! Rum Toddy Toffee Dessert Sauce
Fresh Fruit:  Strawberries
Dried Fruit:  Apricots
Nuts:  Toasted Walnuts

Dark Chocolate
This dessert cheese board is simple to put together and the flavors compliment each other nicely.  The salty creamy Irish crozier blue cheese pairs with both the Rum Toddy Toffee Sauce and the Sour Cherry Spiced Wine Fruit Compote.  The blue cheese also pairs with the apricots, chocolate, crackers and walnuts.  The fresh strawberries pair with the brie, the rum toddy caramel sauce and the gouda.  The sour cherry spread is delicious served on the cocoa cakes (think chocolate and cherries) and the cherry spread is a perfect accompaniment to the brie.  For a lighter less sweet pairing, the blue cheese can be served on the rosemary sea salt crackers with walnuts or the aged gouda can be paired with the dried apricots.  So when planning your dessert cheese board, think of the plate as a whole, how each ingredient can be paired with each other.  
Wozz! Sour Cherry Spiced Wine Fruit Compote
Wozz! Rum Toddy Toffee Dessert Sauce
Quick Tips For Preparing Your Dessert Cheese Board
Pick 3 cheeses and serve at room temperature with separate serving ware
Include fresh fruits (such as sliced fresh pears or grapes) as a palate cleanser and to offset the sweeter flavors of your dessert cheese board
Pick complimentary flavors
Offer an assortment of crackers and breads so your guests can choose if they want a sweeter or more lighter plain pairing.  
Enjoy!