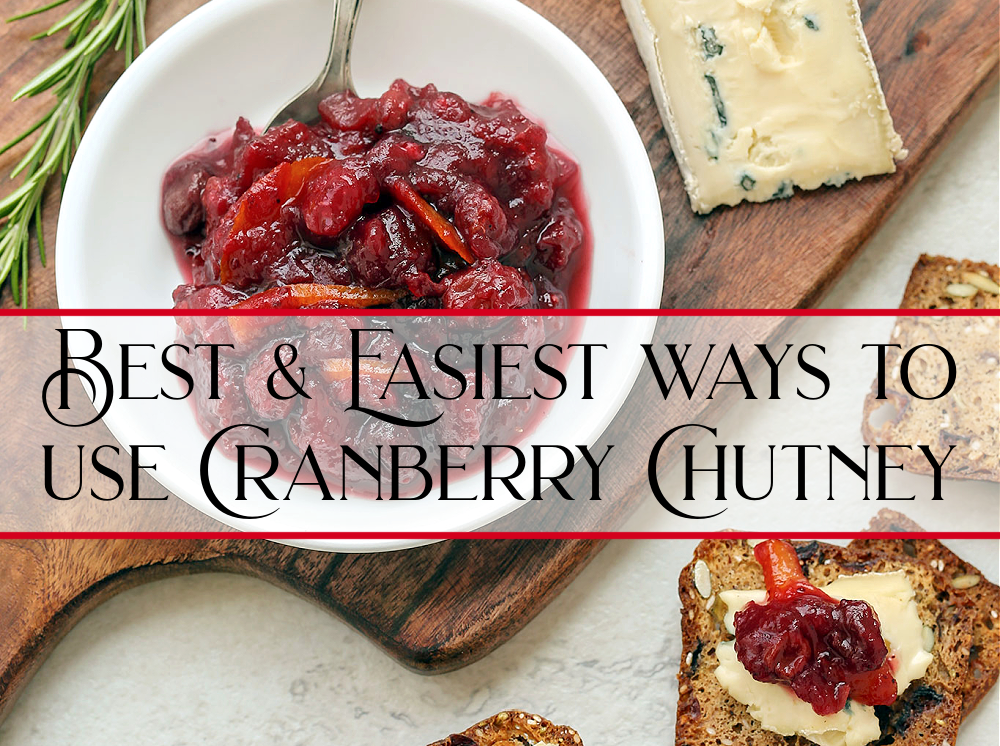 First off let's discuss the difference between cranberry sauce, cranberry jelly and cranberry chutney.
Cranberry Sauce Vs. Cranberry Jelly Vs. Cranberry Chutney
A cranberry sauce typically contains whole cranberries cooked in sugar with a stick of cinnamon and zest of orange peel and is what you think of when you make homemade cranberry sauce on the stovetop at Thanksgiving and Christmas.  Its a whole berry cranberry sauce served in a crock or bowl on the table.
A cranberry jelly is made by cooking cranberries in sugar and straining the cranberries and juice through a sieve to remove the cranberries and uses only the liquid to make the jelly.  This cranberry and sugar liquid is then placed in a mold to set and looks similar to cranberry jello.  The classic grocery store varieties that we all know and love from our childhood, take the shape of the can, however they usually contain high fructose corn syrup whereas homemade cranberry jelly usually does not. 
A cranberry chutney is a combination of whole cranberries simmered with fruit such as apples or pears, spices, dried fruit and vinegar.  It's similar to a whole berry cranberry sauce but with more complexity.  Our Cranberry Orange Cognac Chutney is a combination of fresh whole cranberries, fresh oranges, raisins, chopped apples, cider vinegar, aromatic spices including cinnamon and clove and is finished with cognac liquor.  
How To Use Cranberry Chutney
We use our cranberry chutney in similar ways that you would also use a cranberry sauce or jelly however most people don't look beyond turkey for what to do with it.   So here we'll share with you our favorite recipes and ways to use cranberry chutney.
1. Cranberry Chutney As A Condiment For Turkey Sandwiches
Okay I have to start here, because turkey sandwiches with stuffing, gravy and cranberry chutney on thick soft hearty white bread is such a classic and delicious sandwich combination.  I think most people can't wait for the day after Thanksgiving for that leftover turkey cranberry sandwich!
Pictured Below: Open Faced Thanksgiving Turkey Sandwich with Cranberry Chutney
2.  Cranberry Chutney For Cheese Pairings
Cranberry chutney is a wonderful pairing for cheese including cheddar, goats cheese and brie. Try spooning it over a baked brie, goats cheese log or brick of cream cheese, garnished with candied nuts and chopped rosemary.  Serve with crostini or crackers.
Pictured Below:  Cambozola Blue Cheese (a creamy blue brie blend style of cheese) paired with Wozz! Cranberry Chutney
3.  Cranberry Chutney For Quick and Easy Puff Pastry Appetizers
Adding cranberry chutney to simple mini tartlet shells or puff pastry with brie cheese or cheddar is such an easy appetizer idea.  By using store bought puff pastry you can make these appetizers in about 10-15 minutes.  You can also make hot turkey cheddar puff pastry hand pies, cranberry brie bites or sausage stuffing and cranberry chutney pastry rolls.
Pictured Below: Cranberry Chutney and Brie Puff Pastry Tarts
4.  Cranberry Chutney as a Salad Dressing Ingredient
Whisk a couple tablespoons of cranberry chutney into olive oil and red wine vinegar with a teaspoon dijon mustard for a quick cranberry vinaigrette to dress fresh green salads.  For a fall inspired salad top your fresh greens with fresh apple slices and candied walnuts and dress with cranberry vinaigrette. You can also add a spoonful or two of our Cranberry Orange Chutney to grain salads such as this wild rice salad with celery, walnuts and spring onions pictured below. 
Pictured Below:  Wild Rice Salad with Wozz! Cranberry Orange Chutney and Walnuts Recipe
5. Cranberry Chutney as a Condiment or Glazing Sauce For Pork and Chicken
Our Cranberry Orange Cognac Chutney is delicious served atop a pork tenderloin or served alongside roasted chicken with gravy and mashed potatoes.  Cranberry chutney also pairs nicely with pork or duck terrine served with buttery toast and a little fresh salad as an appetizer. 
6.  Cranberry Chutney as a Crockpot Slow Cooker Sauce
Making cranberry crockpot chicken is a classic recipe that can be made a couple of ways.  The first way is by adding cranberry chutney, seared bone in chicken pieces, fresh celery, chopped onions and a cup of bbq sauce seasoned with salt and pepper to the crockpot and cook on low heat for about 6 hours until chicken is super tender.  The other way to make cranberry crockpot chicken is to add thousand island dressing and onion soup mix to your crockpot with your cranberry chutney (instead of the bbq sauce) along with your seared bone in chicken pieces, celery and onions.  A wonderful recipe for the holidays is cranberry chutney party meatballs which is pictured below. 
Pictured Below:  Holiday Cranberry Meatballs made with Wozz! Cranberry Chutney
7. Use Cranberry Chutney as a Spread For Toast or Biscuits
Top a toasted bagel or English muffin with cream cheese and spread a little bit of cranberry chutney on top.  You can also make a whipped cranberry butter by adding salted butter to a bowl with some cranberry chutney, whip together with a hand mixer until well blended and slather on warm biscuits (yummo).  
8.  Add Cranberry Chutney To Your Morning Yogurt Parfait
Add some cranberry chutney to your morning yogurt with granola for a tasty treat or add it to your overnight oats.  Our Cranberry Orange Chutney is delicious stirred into hot oatmeal made with a little almond milk and garnished with some toasted walnuts or pecans.
9. Add Cranberry Chutney To Your Bread Stuffing Recipe
Instead of dried cranberries use cranberry chutney in your next stuffing recipe.  Try a sourdough bread stuffing with sausage crumbles, butter, chicken stock, onions, celery, cranberry chutney and fresh herbs.
10.  Add Cranberry Chutney To A Grilled Cheese Sandwich
Dress up a grilled cheese sandwich or panini with cranberry chutney.  Try turkey and cheddar with cranberry chutney or add to a chicken and brie melt.  You can also add a dollop to your chicken salad sandwich and serve on hearty wholegrain bread or a croissant. 
Pictured Below:  Grilled Chicken, Avocado and Brie Sandwich with Cranberry Chutney
There you have it, our best ways to use cranberry chutney beyond the Thanksgiving table.  
Wozz! Cranberry Orange Cognac Chutney
Read more